Guide to Buying a Wetsuit for Beginners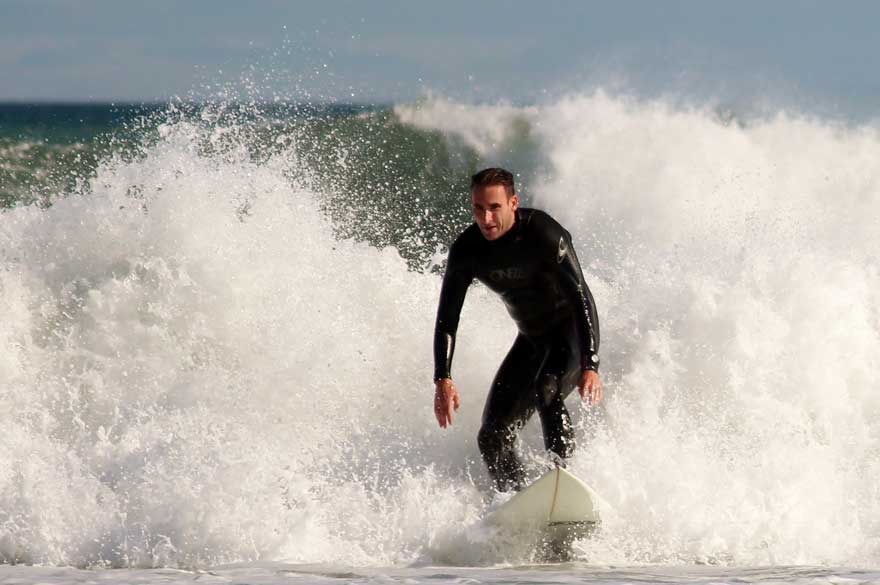 Buying your first wetsuit may confuse you because a wide range of wetsuit offers various features, and a novice buyer may get in doubt. The wetsuit is usually has worn by surfers, divers, and other water sports persons. This detailed article entails every inch of information about buying a wetsuit so that you can opt according to your preferences.
Primer:
Choosing a perfect wetsuit may suffer you in trouble, but when you have the right information, you can find a perfect one. It is necessary to clear your purpose in mind. Different type of diving, swimming, surfing requires a special wetsuit.
Wetsuits insulate the swimmers or help them to retain body heat. Moreover, Wetsuits are protective armor against the wind, the sun's UV rays, and cold water.
If you're playing on the surface, which means surfing, or getting partially immersed (as you do when kayaking), in that case, drysuits are often warmer and more comfortable as compare to full neoprene covered wetsuit.
 But if you go to any depth, pressure has a tendency to mash your insulation flat, robbing it of its insulating qualities. In this situation, the trusty neoprene wetsuit comes into its own- it works under pressure, unlike the fleece we wear under those drysuits when kayaking.
For activities that involve immersion and wind exposure (again, kayaking or surfing), drysuits are much better at regulating heat loss to air convection. But as your activity profile leans more toward full immersion, that wetsuit becomes the weapon of choice.
Moreover, you can opt for drysuits, semi-drysuit, or wetsuits as per your requirements at DIVERSUITS.
Table of content
1. A short history of wetsuit
2. Importance of wetsuit
3. Facts to Consider When Buying a Wetsuit
3.1. Material
3.2. Style
3.3. Thickness
3.4. Stitching
3.5. Fit
3.6. Zipper
4. Some Useful Tips for Novice Wetsuit Buyer5. Wrapping it up
 
1.
 

A short history of wetsuit

Hugh Bradner developed wetsuits for the U.S. Navy in 1951 and after him; many other people worked on wetsuits and made some changes to make wetsuit better. Now modern wetsuit uses for recreational and professional purposes and provides complete thermal insulation to divers.

 
2.
 

Importance of wetsuit

A wetsuit protects the body from abrasion, ultraviolet exposure, bone-chilling cold water, and marine organisms' stings.

The surfing suit is designed to make you warm, and they can't help you swim fast. On the other hand, swimming suits allow you to swim better.

They are less focused on insulation due to the nature of body temperature when moving quickly in the water instead of striding atop a surfboard.

They're hard to beat when you're up against sustained immersion in cold water, especially at depth.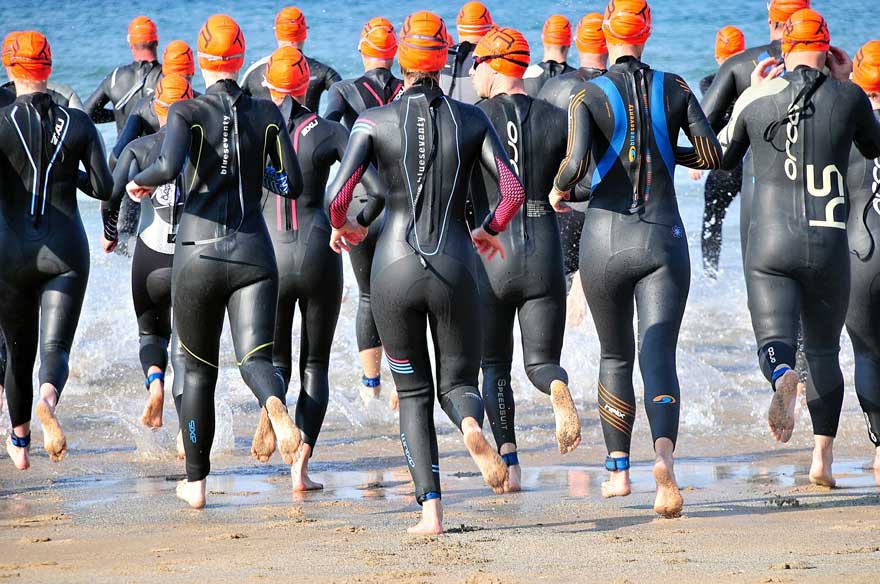 3.
 

Facts to Consider When Buying a Wetsuit

A wide range of wetsuit is available in the market, so a novice buyer must confuse making decisions. Particular brands present specialized wetsuit types; on the other hand, many others offer an ample range of wetsuit with many options.

Let's explore the factors to keep in mind when purchasing a wetsuit. 
3.1.
 

Material

A top-end and carefully designed wetsuit provides thermal protection to the body from cold water.

Usually, a wetsuit is designed for both gander and all age's surfers.

A wetsuit is made of waterproof material called neoprene. The neoprene material is light-weight and keeps the surfer body warm without being weighed down.

The warmness of wetsuit depends on the thickness of the neoprene material. Other materials are too heavy, or they don't keep warm enough to surfer's body.

It is recommended that you look out the wetsuit material thickness according to the region's climate or body tendency.
3.2.
 

Style

A wetsuit is based on different styles according to weather conditions and types of diving. Different diving types such as scuba diving, free diving, and spearfishing wetsuit required full body covered wetsuits.

Surfers and other technical types of diving require a specific kind of wetsuit.

You can opt according to your preference, weather condition, and type of diving. Here is a list of wetsuit according to style.

The full hooded wetsuit provides full coverage to your body, including the head. For icy regions, surfer prefers full hooded wetsuit because it covers the entire body except for hands, feet and face.

The full wetsuit covers the diver's entire body, legs, arms and torso.

During the spring season, surfers prefer to put on the spring wetsuit, which has short legs and arms.

The wetsuit vest provides a little neoprene coverage for your upper body. It is ideal for keeping you more comfortable on summer day surf.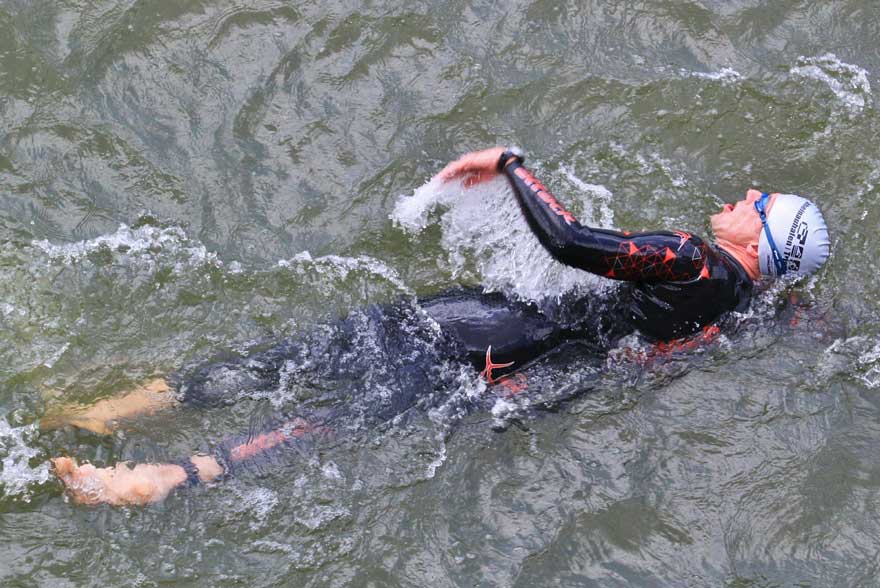 3.3.
 

Thickness

There are different types of wetsuits based on thickness.

Water temperature is the topmost essential factor to consider while purchasing any style or type of diving suits. The thickness of a diving suit is directly proportional to the temperature of deep waters.

They are available in various thicknesses, such as 0.5 - 1 mm, 2 mm, 3 mm, 4 mm, and 5+ mm. You can opt wetsuit by thickness.

The first number on wetsuit determines the thickness along the body portion, and the second number indicates the thickness along the arms and legs. Here is a role of thumb to buy a wetsuit.
Warm Waters: If the temperature is greater than 25℃or 77℉, opt for 3mm thickness neoprene wetsuit or shorty wetsuit.
Cold Waters: If the temperature is less than 10-18℃or 50-65℉, opt for 7+mm thickness neoprene wetsuit.
Moderate Waters: If the temperature is between than 16-24℃or 60-76℉, opt for a 5.5mm thickness neoprene wetsuit.
3.4.
 

Stitching

Another feature to must eye on is how sealed a wetsuit is or which type of stitching is used to make wetsuit. There are many types of seams is used to manufactures the wetsuit.

High-end wetsuit stiched with blindstitched seams that completely seal the wetsuit. Many other types of stitching are being used for manufacturing wetsuit, such as Flatlock or overlock seams.

Flatlock or overlock seams do not completely seal the wetsuit; thus, the wetsuit is not waterproof enough to bear cold water.

A high-quality wetsuit is always stiched with blindstitch technique, which sealed the suit completely and waterproof so that you will be warm in bone-chilling water for a long time.
3.5.
 

Fit

A wetsuit should be snug fit on your body. A comfortable fit means you can easily move, and your hands and legs don't feel strict to move.

When looking to purchase a comfort-fit wetsuit must consider that your weight is more critical than height. Mostly athletes who buy their first wetsuit try to choose wetsuit as they are purchasing their regular clothes. The case of wetsuit is different from regular clothing. It needs to be snug and comfortable at the same time. For better coverage and excellent performance, opt for a smaller size.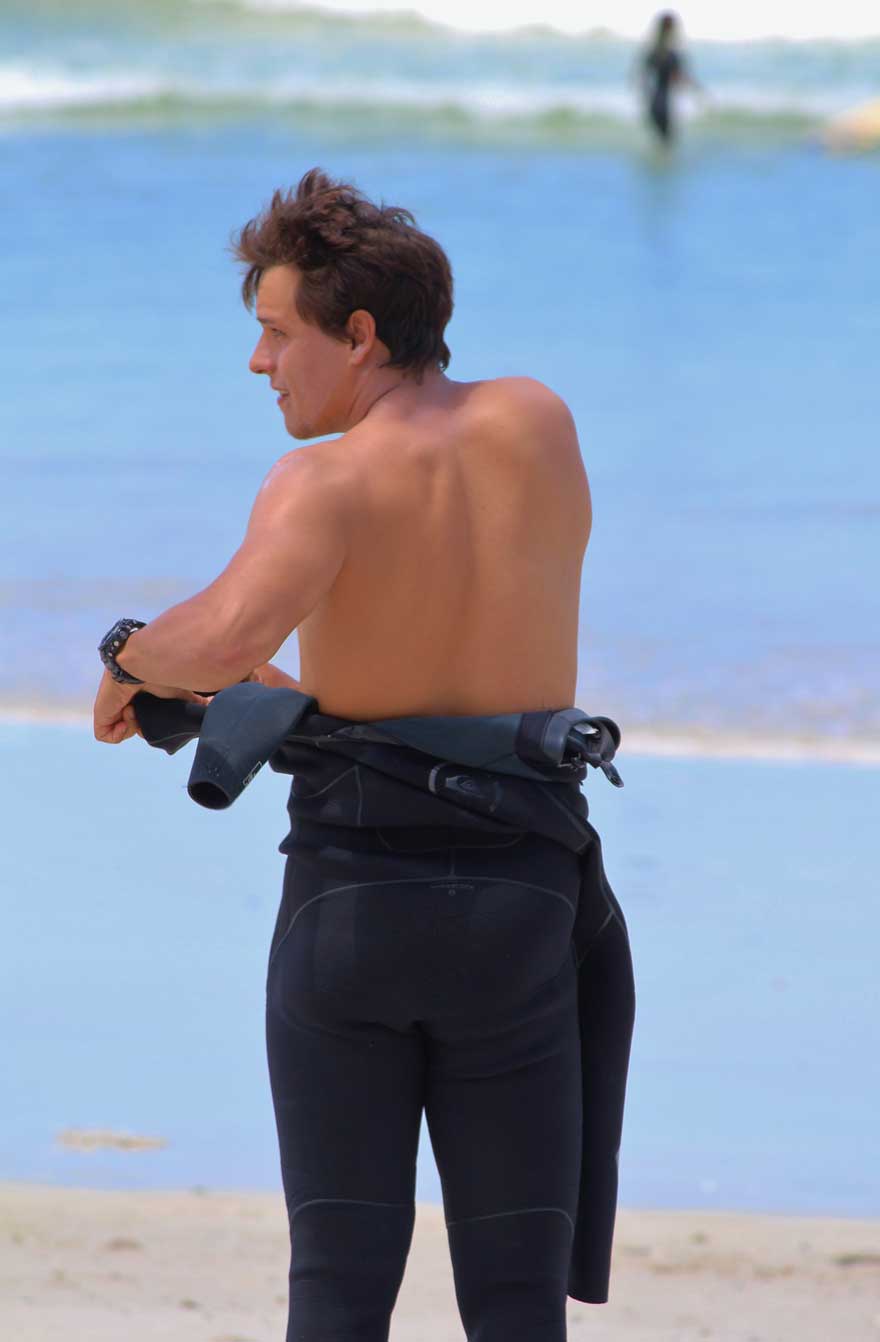 3.6.
 

Zipper

A wetsuit is usually snug fit on your body, so it's hard to get into. The manufacturer uses zipper to make the dressing process easy.   

However, zippers help to get into the wetsuit, but their length may increase or decrease.

There are two types of zipping methods used in modern wetsuit.
Back zip: They are easy to get into, and their opening is larger.  This type of zipper may decrease the level of warmness in your wetsuit.
Front Zip: They have a small opening and they are difficult to put on. Front, chest zipper are short in length and it provides flexibility in the back and is more watertight.
4.
 

Some Useful Tips for Novice Wetsuit Buyer
The main purpose of a wetsuit is to keep your body warm and prevent from marine organism. The thickness is exactly that, how thick the suit is. Wetsuits are made of neoprene, and that thickness is mostly air.  So, a wetsuit is like a life jacket; it makes you float. In addition to all the gear, we still add weights to compensate for the wetsuit buoyancy.  
It is recommended to opt according to your tendency. Different people have various tolerance levels to cold. It also depends on climate, weather conditions and your diving type.
Moreover, must look at how sealed a wetsuit is because unseal or cheap quality wetsuit may suffer you in trouble while you are in deep sea.
Always rinse your wetsuit thoroughly with fresh water after use.
Dry your suit in the shade instead of drying in the sun shines.
5. Wrapping it up:
Now that you know the summer season is on edge, all the divers understand how incredible this season is for deep-sea exploration and diving. Thus, getting your hands on a perfect diving suit is more than important than ever.  
But before buying a diving suit, we are sure this article must have already helped you out in understanding the different types of wetsuits more appropriately and in-detailed. Thus, do not confuse yourself or stress out when it comes to grabbing a perfect wetsuit for yourself. Place your order through our website  and get the perfect wetsuit as per your preference right away!  
The above is all the content of this article. If you have any questions, please leave a comment below.
Sample Block Quote
Praesent vestibulum congue tellus at fringilla. Curabitur vitae semper sem, eu convallis est. Cras felis nunc commodo loremous convallis vitae interdum non nisl. Maecenas ac est sit amet augue pharetra convallis nec danos.
Sample Paragraph Text
Praesent vestibulum congue tellus at fringilla. Curabitur vitae semper sem, eu convallis est. Cras felis nunc commodo eu convallis vitae interdum non nisl. Maecenas ac est sit amet augue pharetra convallis nec danos dui.
Cras suscipit quam et turpis eleifend vitae malesuada magna congue. Damus id ullamcorper neque. Sed vitae mi a mi pretium aliquet ac sed elitos. Pellentesque nulla eros accumsan quis justo at tincidunt lobortis denimes loremous. Suspendisse vestibulum lectus in lectus volutpat, ut dapibus purus pulvinar. Vestibulum sit amet auctor ipsum.